Adding affirmations
Affirmations Daily relies heavily on the presence of affirmations. In addition to the extensive collection of predefined affirmations, users possess the capability to incorporate multiple personal affirmations or those from their favorite authors. To begin the process of adding your affirmations, follow these steps:
1. While on the home page, select a category or create a new one in which you wish to store your affirmation.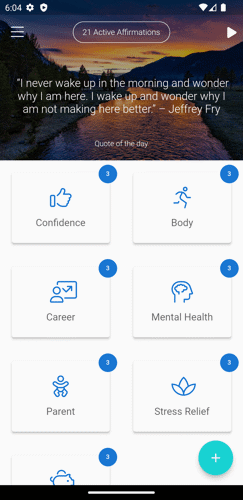 2. On the category page, click the "+ Affirmation" button.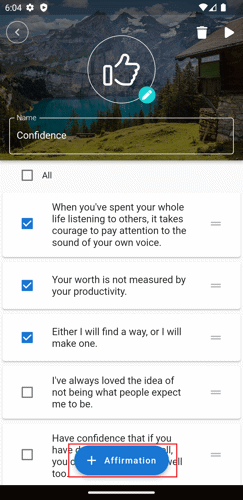 3. Access the "Add Affirmation" field and commence typing your affirmation. Alternatively, you can easily copy and paste your affirmation here. It is essential to fill in this field, as it is a mandatory requirement for saving your affirmation.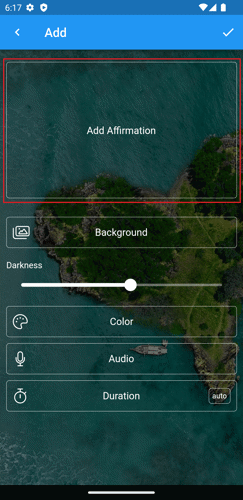 4. Beyond simply adding the affirmation, there are additional optional settings available for customizing your affirmation. On this page, you have the ability to alter the affirmation's background, tint, and background color. You can also include an audio recording of the affirmation and adjust its duration.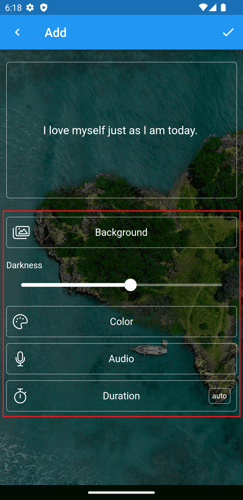 5. Once you are content with the affirmation's settings, you can confirm the changes by tapping the save button.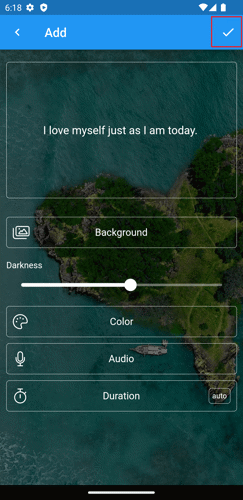 Please keep in mind that the optional settings can be modified at a later time.